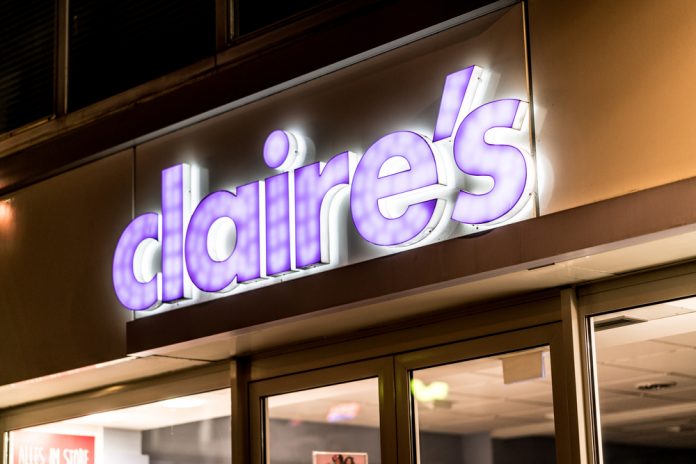 Claire's is reportedly considering store closures across the UK, amid a persistently difficult trading environment for many high street retailers.
The accessories company is reported to be in restructuring talks with various firms, with one of its options thought to include a Company Voluntary Arrangement (CVA).
A CVA involves the closing down of underperforming locations, and allows a company to reach a deal with creditors regarding debts.
This follows a bankruptcy filing by the company in the U.S earlier this year, after racking up debts of more than $1.4 billion.
The investment funds Elliott Management and Monarch have taken over the US arm as part of a restructuring.
Claire's is one of the many well-known high street retailers that have faced troubles in recent years.
House of Fraser and Toys R Us were forced into administration at the beginning of the year.
House of Fraser was later rescued by Mike Ashley's Sports Direct, but some stores are still facing closures.
Moreover, retailers such as New Look, Carpetright and M&S were forced to close a string of stores, in response to increased cost pressures and weakened profits.
Just today, Coast announced its collapse into administration, putting around 300 jobs at risk.
Elsewhere in retail, Superdry (LON:SDRY) shares plummeted more than 20% on Monday morning after the company issued a profit warning.
On the whole, high street retailers have been heavily affected by competition from online retailers such as Amazon driving a shift in consumer shopping habits.
Moreover, lower disposable incomes as a result of rising inflation and stagnating wages, have meant shoppers are increasingly tightening their purse strings.
This has been reflected on the progress of the high street, with 2017 marking the toughest year since 2010 according to an analysis of the UK's top 500 towns compiled by the Local Data Company (LDC) for PricewaterhouseCoopers.