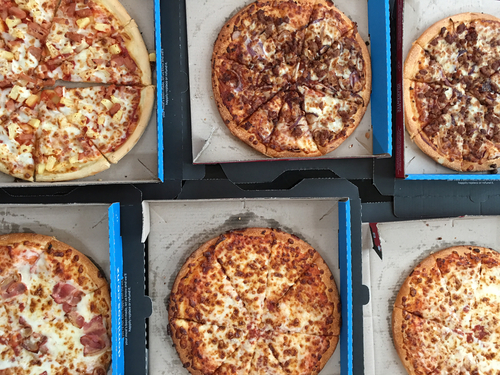 Domino's (NYSE:DPZ) reported a 5.5% rise in sales for the fourth quarter of the year, but news of weaker international performance figures send shares down.
The pizza delivery chain said sales were up year-on-year to year on year to £339.5 million in the 13 weeks to 30 December.
Growth was driven by its Republic of Ireland business, with like-for-like sales up 7.5%.
In addition, Domino's enjoyed a record day of sales in the UK on the Friday before Christmas, selling 12 pizzas a second.
However, growth was dragged down by expansion efforts internationally. International sales dropped by 2% year on year to £26.6 million.
The company flagged 'business integration challenges' in Norway, in particular for the weaker performance.
Domino's Chief Executive Officer, David Wild, commented on the results:
"I'm pleased with the continued strong performance in the UK and Ireland, where we opened a further 59 stores. Many families decided to kick off the festive season with a Domino's, with the Friday before Christmas breaking all records as we sold more than 535,000 pizzas – equivalent to 12 every second.
"Our international businesses offer significant long term potential, but we have experienced growing pains this year, particularly in Norway, where we have faced business integration challenges. Looking ahead, we will invest further in robust teams and infrastructure in our newer markets, to create a solid platform for profitable growth."
Mr Wild also remained optimistic with regards to the UK delivered food market, estimating growth at a compound rate of 8% a year until 2022.
Shares in Domino's are currently -1.54% as of 10:37AM (GMT).