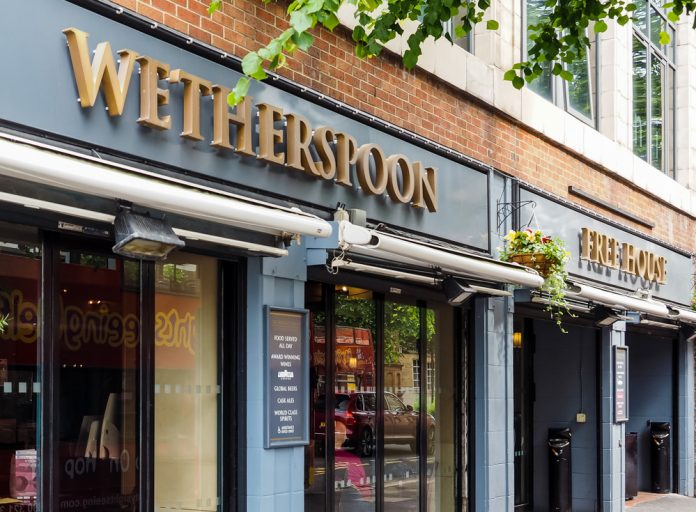 J D Wetherspoon (LON:JDW) said on Wednesday that it saw its sales rise in the second quarter.
Shares in the pub company were down on Wednesday, trading over 1% lower.
Wetherspoon said that like-for-like sales increased by 4.7% in the second quarter, whilst total sales grew by 4.2%.
In the year to date, like-for-like sales were up by 5% and total sales increased by 4.9%, reflecting the strong second quarter period.
The pub company did warn, however, that net debt at the end of its current financial year is expected to be between £780 million and £820 million, a figure higher than what was previously expected.
Wetherspoon said that this was as a result of "higher than anticipated capital expenditure".
Commenting on the pub company's outlook, the chairman of Wetherspoon, Tim Martin, said: "We continue to anticipate a trading outcome for this financial year in line with our previous expectations."
As usual, Tim Martin added to the debate on Brexit: "It is disappointing to note that pro-remain organisations like the CBI and the Food and Drink Federation are, even at this late stage, doubling down on 'project fear' stories."
"A dramatic headline on the BBC's main news website ("Brexit: Price rises warning after chancellor vows EU rules divergence", 18 January) predicted dire consequences in the event of 'divergence' from the EU," Tim Martin said.
"The article contained a jobs warning from the CBI, which previously promoted the disastrous exchange rate mechanism and the euro, and a food prices warning from the Food and Drink Federation (FDF)."
"The CBI's warnings about job losses and recession in the event of a leave vote in 2016 have proved to be mythical – over a million jobs have been created."
"The FDF's warnings about food price rises are absurd- the EU is a highly protectionist organisation which imposes tariffs and quotas on about 13,000 non-EU imports including many food and drink products such as bananas, rice, oranges, coffee and wine."
"Elimination of tariffs will obviously reduce prices."
Tim Martin concluded: "It is high time these organisations took a wise-up pill and supported the democratic decisions of the UK."
Shares in J D Wetherspoon plc (LON:JDW) were down on Wednesday, trading at -1.5% as of 12:15 GMT.