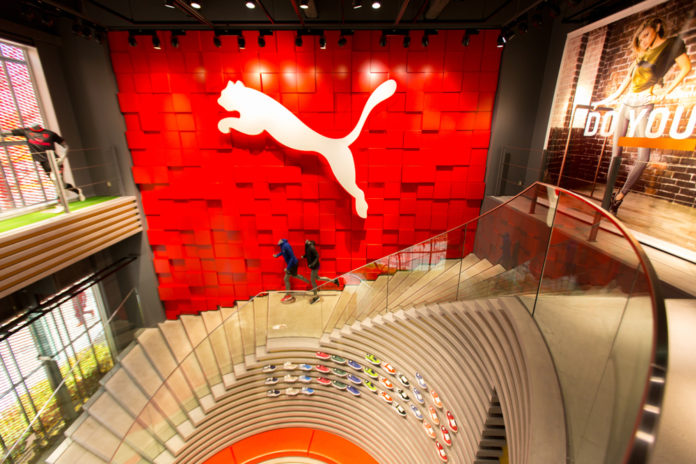 Puma (ETR:PUM) shares rose on Wednesday after it saw its fourth quarter and full year sales rise.
The Chief Executive Officer has described 2019 as "the best year in Puma's history".
Shares in the sports fashion retailer were trading 7% higher on Wednesday afternoon.
Sales in the fourth quarter grew by 20.6% amounting to € 1.48 billion, whilst full year sales increased by 18.4% to € 5.5 billion.
Additionally, net earnings for the fourth quarter increased by 55% to € 17.8 million, also growing by 40% to € 262.4 million for the full year.
EBIT for the quarter was driven by strong sales growth, up by 46.8% to € 55.2 million.
Meanwhile, full year EBIT amounted to € 440.2 million, which is just above the upper end of Puma's revised EBIT guidance of € 420 million to € 430 million.
"2019 ended with a very strong fourth quarter for us with revenues being up 20.6% reported (18.3% currency adjusted) and EBIT up 47%," Bjørn Gulden, Chief Executive Officer of Puma, said in a statement.
"This made 2019 the best year in PUMA's history," the Chief Executive Officer continued.
"I am very proud of what the team has achieved and think this performance shows the global potential of the Puma brand," said the Chief Executive Officer.
However, the company also warned in its results of the negative impacts the outbreak of the deadly coronavirus has had on its business.
Earlier this week, the Financial Reporting Council, an independent UK regulator, said that companies must outline the risks to their business caused by the coronavirus outbreak.
Puma said many of its stores in China are temporarily closed as a result of restrictions by local authorities.
The company said that, because it is still uncertain how long the outbreak will last for, it is difficult to forecast the business and make predictions for the year ahead.
Shares in Puma SE (ETR:PUM) were up on Wednesday, trading at +7.78% as of 16:10 CET.