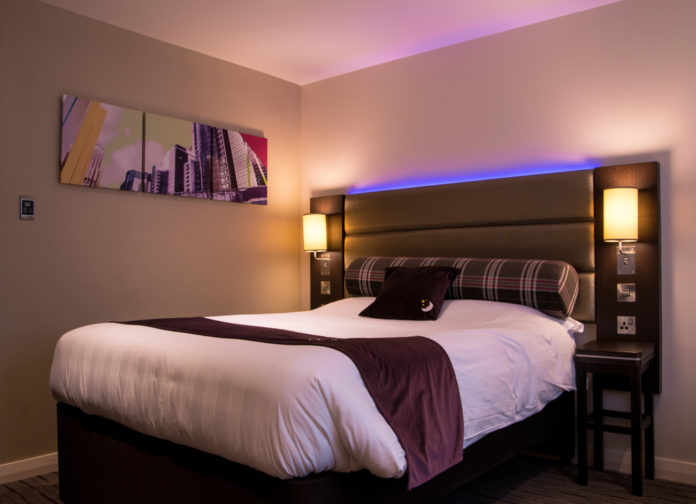 Multinational hotel group, Whitbread (LON:WTB), posted results that reflected the "closure of the vast majority" of its businesses during lockdown, with some punishing performance data.
With most of its estate out of action, the Premier Inn owner saw its statutory revenue fall by 76.9%, down from £1.08 billion, to £251 million year-on-year during the first half. Similarly, the company saw its earnings EBITDAR drop by 136%, down from £427 million, to £154 million.
These losses of income saw the company post an adjusted loss of £367.4 million, and a statutory loss before tax of £724.7 million – swinging from last year's profit and down by 429.6%. This saw the company's statutory performance for the period swing from a £172 million profit, to a £661 million loss year-on-year, down by 483.6%.
The situation was equally stark for Whitbread shareholders, with statutory EPS falling by 521.2%, from 89.6p, to 377.4p, and the company cancelling its dividend, which had previously been paid at a rate of 32.7p a share.
In spite of these painful updates, the company said it has been outperforming the hotel market in the UK, and has trebled its German offering to 21 hotels, since the beginning of the year.
It added that it had protected its cash flow with a £1 billion rights issue in June, and that some of this money would be spent on the acquisition of up to 15 hotels in Germany, as announced on Tuesday. The company continued, saying that despite COVID limiting short-term visibility, it believes Premier Inn remains well-positioned to take advantage of the enhanced growth opportunities it sees coming into play in future.
Whitbread ready for second wave and optimistic for the future
"Throughout the crisis we have taken decisive action and we continue to focus on protecting our guests, our teams and our business in light of the impact of the recent increase in regional and national restrictions. We are also improving the flexibility of our cost model to respond to changes in demand.  As a result, we enter this second-wave period in a position of strength, with our customer scores higher than they have ever been, our market share growing in the UK and extending a meaningful network of hotels in Germany, giving us the opportunity to achieve national brand awareness and operate at scale."
"Whitbread's long-term strategy remains as relevant and compelling as ever.  The impact of the COVID pandemic on the hotel sector will undoubtedly be significant and we are already seeing signs of distress and constraint in the competitive landscape. This is likely to accelerate the structural changes in the market  with supply contraction and constrained investment amongst independent and budget branded operators in both the UK and Germany."
"We hold a uniquely advantaged position in the UK market as the largest player with the strongest brand.  Our financial flexibility and resilience, combined with a strong balance sheet, give us the ability and the confidence to invest with discipline and focus on strong long-term returns. We will be well placed to enhance our market leadership position even further in the UK, and accelerate our growth in Germany, supporting our guests and teams and driving long-term value for all our stakeholders."
Investor notes
Following the update, the company's shares rose by the most modest of margins, up by less than 0.1%, to 2,246.00p. With the last few months seeing some chaotic fluctuations, this level is above the six-month nadir of 2,049p, but behind the six-month high of 2,774p.
Analysts have a consensus 'Hold' stance on the stock, alongside a target price of 3,026.55p, a potential upside of around 35%. The company also has a p/e ratio of 15.38, and a 53,81% 'Outperform' rating by the Marketbeat community.