Australian manufacturing PMI data posted its biggest upturn in almost two-and-a-half years, with the sector recording 'solid' increases in both production and sales.
In addition, the IHS Markit (NYSE:INFO) report also showed that export orders also returned to growth in September, while firms added more workers for the first time in ten months, as capacity pressure rose. With the sustained improvement in manufacturing conditions, what also came was a boost in sector confidence, at its best level since February 2019.
The survey's headline, though, was that the IHS manufacturing PMI rose from 53.6 in August to 55.4 in September, which indicates a 'marked improvement in the health of the sector'. The third quarter's average PMI reading stood at 54.3, more than half a dozen points higher than the second quarter average of 46.4.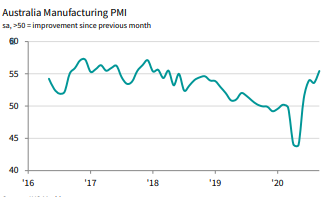 The latest reading of over 50 points indicates an uptake across output, new orders, employment, input inventories and delivery times, According to IHS, output and order growth lead the charge in September, with both production volumes and new orders both rising for a third consecutive month.
As stated by IHS Markit Principal Economist, Bernard Aw:
"Latest PMI data showed the recovery in Australian
manufacturing sector gaining pace in September,
with output and sales increasing solidly. Other survey
indicators suggest that the upturn has further room to
continue."
"A renewed increase in backlogs of work, which reflected
rising capacity pressure, led firms to expand their
workforce numbers for the first time since late 2019.
Purchasing activity was also up for a third straight
month to meet higher production requirements."
"Business confidence consequently improved further,
with optimism at its strongest for nearly one-and-a-half
years, amid rising expectations of a sustained recovery
from the pandemic."
"The survey also highlighted the severe pressure on
supply chains due to limited freight capacity globally and
import restrictions at home. The reduced availability of
inputs may therefore limit output growth in the coming
months even if demand continues to rise."