Consisting of 14 different islands, the city of Stockholm is often referred to as 'The Venice of the North'.
However, with winter weather's often reaching as low as -11, the climate is considerably cooler than its Italian counterpart.
Whilst Stockholm may be comprised of 30% water, the Swedish capital is surprisingly easy to navigate,  making it an ideal choice for your next city break – that's if you're willing to brave the chill.
Getting there
Flights from Stansted Airport are as low as £16 with Ryanair.
Once you arrive at Skavsta Airport, hop on an airport coach for an 85 minute ride to the city centre.
Where to stay
Haymarket by Scandic
Centrally located in Norrmalm, Haymarket by Scandic is like stepping back into the 1920s. With a decidedly art deco feel, it's all very Great Gatsby with a decadent dusky rose and gold interior.
Rooms are available from £98 pounds a night. Facilities include a gym, various cafés to grab a quick coffee, as well as a hotel bar that gets buzzing come night fall.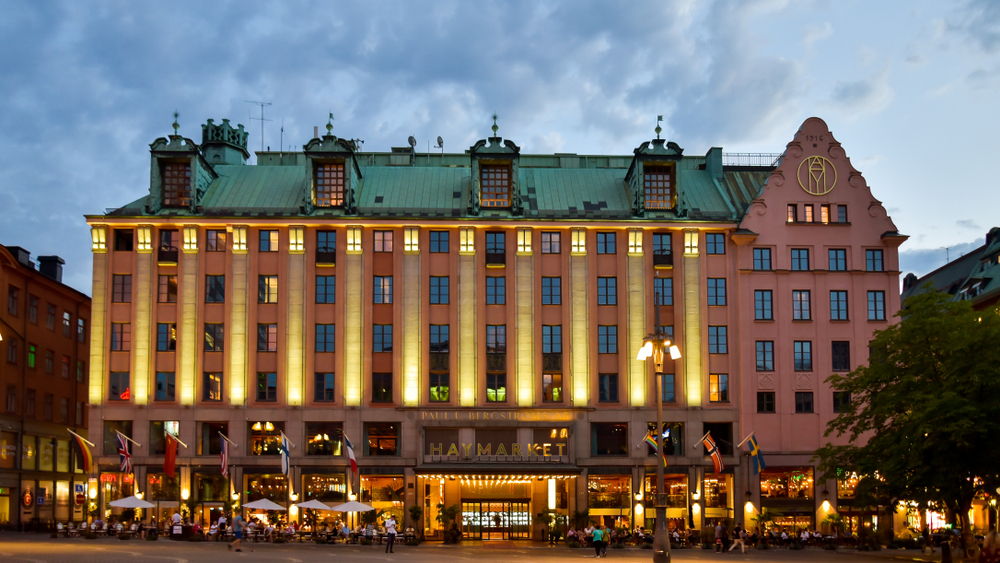 What To Visit:
If you're only in the city for the weekend, make sure to visit The Abba Museum, a fun interactive museum where you can see original members' costumes, perform alongside the band and learn about the history of one of Sweden's most famous musical exports.
Djurgårdsvägen 68, 115 21 Stockholm, Sweden
For a spot of history, head to The Vassar museum, which houses the only almost completely intact 17th century ship.
Galärvarvsvägen 14, 115 21 Stockholm, Sweden
What To Eat:
Once upon a time, Stockholm was renowned for its food halls. Now there are just three in the city. If you're a bit of a foodie, be sure to try Hötorgshallen. 
From Tunisian cuisine to fresher than fresh-out-of-water fish, there's plenty to choose from at this food market, which remains a favourite among locals.
For a quick coffee break, or as the Swedes call it "Fika", try Fabriqué for the most delicious cinnamon buns at various sites across Stockholm.
For a more upscale dinner choice, Nosh & Chow is a great location for European-inspired dishes, a glass of wine and a spot of people watching after dusk.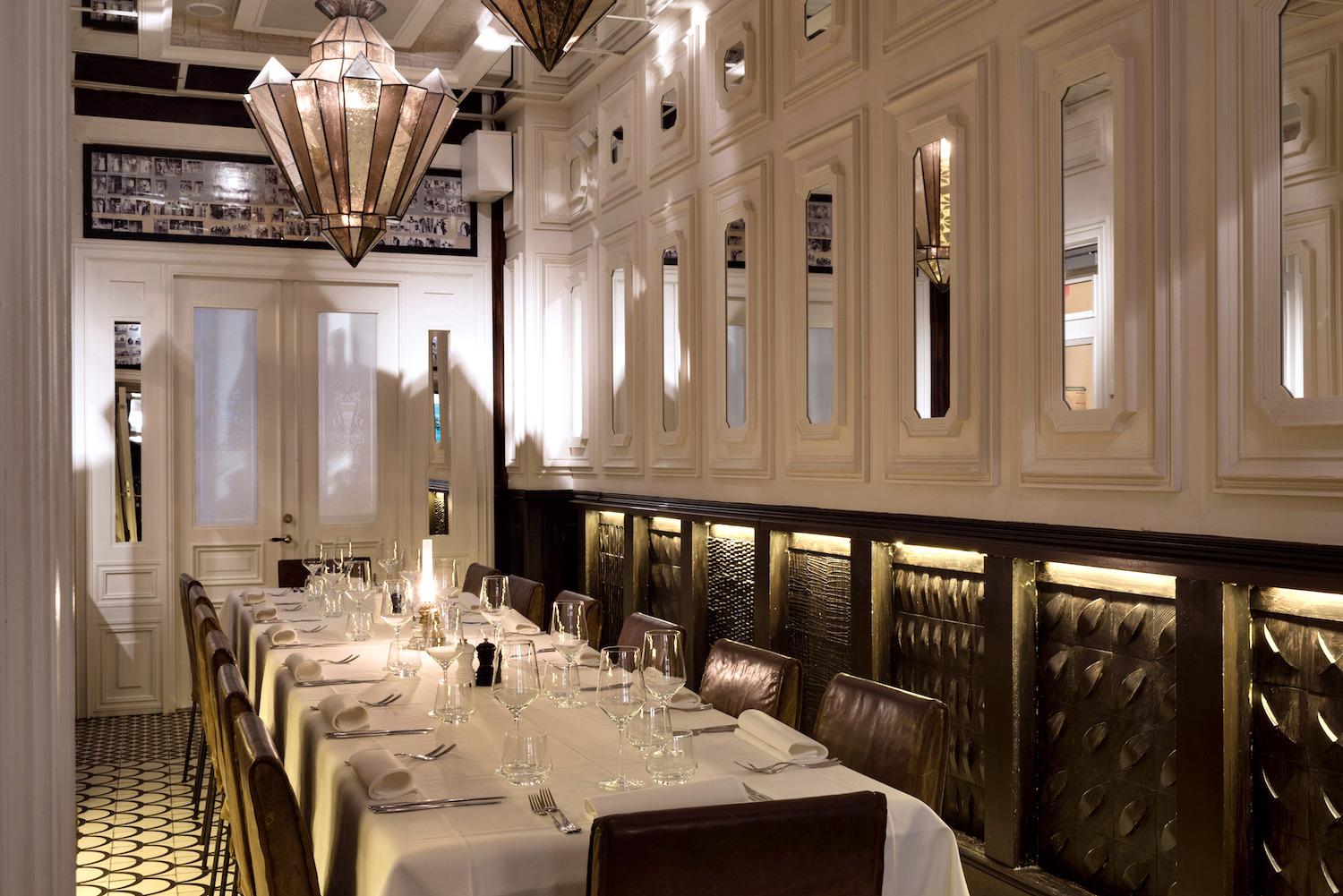 The restaurant itself is located in an expansive Townhouse, designed by Catalan interior-design architect Lázaro Pink Violán.
Upstairs is home to two buzzy bar areas, all with a decidedly minimalist Scandi look and a vibrant scene.
Norrlandsgatan 24, 111 43 Stockholm, Sweden.
Tradition
If you're dying to try some authentic Swedish cuisine, look no further than Tradition. Opt for the classic Swedish Meatballs, which come served with a rich sauce and whipped pureé potatoes – you won't be disappointed.
Österlånggatan 1, 111 31 Stockholm, Sweden
For a more low-key dining experience, why not try one of the cities many Japanese restaurants.
Roppongi offers authentic Japanese cuisine all in a cosy atmosphere. The sushi is some of the best in the city, and service is equally good.
Hantverkargatan 76C, 112 38 Stockholm, Sweden
To Drink
Wine, everyone will tell you, is comparatively expensive in Stockholm.
Whilst it may be difficult to decipher how much the krona translates to in pounds – especially after a few glasses – it is indeed an expensive city to drink in.
The only place to buy alcohol in Stockholm is the government controlled Systembogalet.
The only problem are the opening hours. It usually closes around 3 p.m. on Saturdays and is closed all Sunday.
Alternatively, you can hop to one of Stockholm's many late-night bars.
Bank Hotel, which only opened in August of last year, is host to two bars.
Whilst there is no cocktail menu as such, bartenders are happy to concoct you a beverage, or serve you a chilled glass of wine from their extensive collection.
Arsenalsgatan 6, 111 47 Stockholm, Sweden
Perhaps more of a summer location, but with a great vista nonetheless, rooftop bar TAK is also one to check off your list.
With expansive views over the city, its a great place to grab after work drinks or if you stay till late on the weekend, the atmosphere turns club with a DJ set and queues out of the door.
Brunkebergstorg 2-4, 111 51 Stockholm, Sweden
For a more downtown scene, try Mörfar Ginko. The industrial-style bar is a great place to catch a tipple, bite to eat or even try your hand at a game of ping-pong.
Swedenborgsgatan 13, 118 48 Stockholm, Sweden
Where to shop 
Scandi fashion has continued to make a name for itself with its distinguishable, yet decidedly minimalist aesthetic.
Some of the high-street's most well-known stores hail from Sweden including H&M, Weekday and & Other Stories.
For a more up-market offering, it is also worth making a visit to the flagship location of Acne Studios or the brand's outlet location, Acne Archives, with sale items from previous collections including denim, jumpers and outerwear.
Acne Studios Flagship: Norrmalmstorg 2, 111 46 Stockholm, Sweden
Acne Archives: Torsgatan 53, 113 37 Stockholm, Sweden