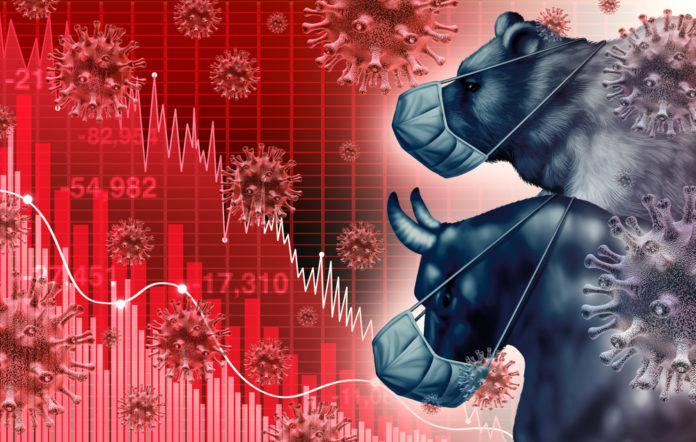 Global equities ran out of steam in the final knockings of Friday trading, as Covid deaths rose in mainland Europe and new, regional lockdowns were brought into force in the UK.
Eurozone indices started the day on a glum note and continued in a similar fashion as the day progressed. As traders went home for the weekend in the UK, the DAX sat down 0.70%, at 13,116. Meanwhile, the CAC booked the day's sharpest fall, shedding 1.22%, down to 4,978 points.
This fall came on the back of news that Covid deaths in France had begun to rise for the first time since the end of its nationwide lockdown. For France itself, this raises questions over the potential for a second lockdown period, while its European counterparts will now be fretting about similar scenarios playing out within their borders.
Following European sentiment, and also hampered by new lockdown measures in Northern England, the Friday FTSE session was once again defined by Covid jitters, with the index falling 0.71%, to 6,007 points. The new lockdown measures hit hospitality and service sector stocks hardest, with the looming potential of a second national lockdown no doubt causing many businesses to question whether they would be able to survive a second shutdown.
As stated by Spreadex Financial Analyst, Connor Campbell, on the potential of Covid to once again become the deciding voice in global equities:
"It is going to be interesting to see over the rest of September whether we return to a situation where daily covid-19 case and death figures from the UK and across Europe become market movers like they were at earlier points in the pandemic."
Unfortunately for European markets, their day wasn't improved by a subdued Dow Jones open. Lacking inspiration – and looking to start the weekend early – the US index fell by 0.50%, to 27,763 points. This means it looks likely to finish the week on the wrong side of the fabled 28k mark, which pretty much sums up its week: no tech slump this time, but not much to celebrate either.
Speaking on the Dow Jones' lack of inspiration, Mr Campbell said:
"Still waiting for a covid-19 spending plan from Congress – something that seems like it is going to be increasingly hard to come by as the election draws closer – and with a tech sector that isn't fully recovered from the shock to the system received at the start of September, it feels like the US markets are at something of a crossroads. Perhaps next week's flash PMIs will give investors a better idea of where the country's economy is at."
Some direction, or at least less uncertainty, is what markets are crying out for. The BoE and Fed announcements didn't offer much relief to global equities – we can hope for bluer skies in the coming week.