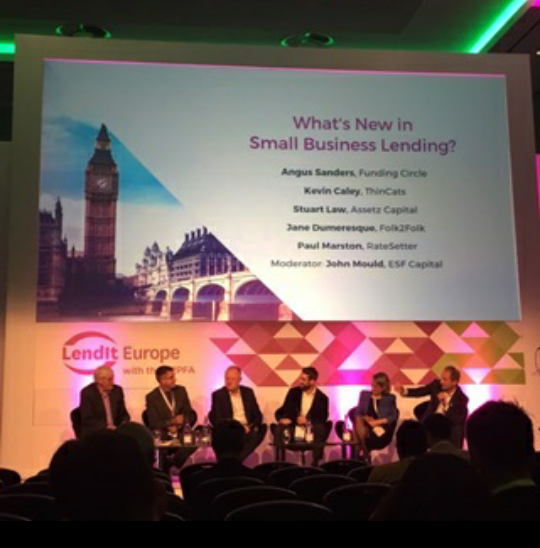 This week LendIt Europe's returned to London, with a jam-packed conference showcasing the best of the peer-to-peer lending industry. Over 900 attendees came to participate in this year's conference, up from 750 the previous year.
LendIt Europe 2016 shows a bright future for the industry
LendIt Europe 2016 discussed a variety of issues surrounding market place lending, with talks and panel discussions from industry leaders, regulators and economists. Topics included the advantages of P2P lenders vs. traditional banks, the threat of current economic uncertainties and a possible downturn, and the connection between institutional investor and the P2P lending space.
Samir Desai, co-founder and director of Funding Circle, gave a passionate opening speech strongly, which argued that p2p lending platforms are "better at tackling today's issues than banks." Another keynote speech echoed Desai's positive outlook, drawing on a recent report by Oxera about the ability of P2P lenders to manage risk, which found new P2P lenders seem to be good at credit default rate predictions and are likely to have high enough investor trade-offs to be sustainable going forward.
In February this year, Lord Adair Turner made headlines by saying that "a P2P lending crash over the next five to ten years will make the bankers look like lending geniuses." He too gave a speech at LendIt Europe, clarifying his views on the industry in a speech called "Non-bank lending and systemic risk." His speech gave a more positive outlook on the P2P lending industry than his remarks earlier this year would suggest, as he remarked, that, if P2P lending platforms keep it simple and stay clear of maturity transformation, they pose clear advantages to traditional bank lending and reduce of systemic risk.
The stars of the Exposition Hall
Berlin based company CrossLend attracted attention with their aim to "connect investors from low-interest-rate countries with borrowers in high-interest-rate countries". The company offers an intermediation service for loans, securitising them into individual bonds and making them available on their European wide platform. While the makers of the platform first only intended it for the European marketplace lending space, it now also offers its services to banks.
Co-CEO Dagmar Bottenburch, who attended LendIt Europe 2016, said: "Banking institutions can benefit from our approach. CrossLend helps the banks free up their balance sheets of loans, manage risk and increase their profitability. We convert both new and already granted single loans into tradable securities, which can then be subscribed to by both private and institutional investors via the CrossLend platform. In this way, banks gain new scope for lending, which will in turn help the European economy as a whole."
Other notable companies include Landbay, which is currently the fastest growing UK P2P lending platform and which focuses on offering mortgages for the residential buy-to-let market, as well as Viventor, a P2P lending platform that also showcased the first edition of its new FinTech newspaper Finventor.
A successful two days
The LendIt Europe 2016 conference was great success, offering an interesting insight into the latest companies in the P2P sector and and opening up discussions on the industry's hot topics. LendIt was also able to announce its global partnership with Hong Kong based boutique investment bank, AMTD Group which will be aimed at forging a stronger connection between the US, Europe and China P2P lending space.
We are already looking forward to LendIt Europe's return to London in 2017.