The latest start-up on Crowdcube that has surpassed its fundraising goal is Pedals; the green, affordable, on-demand bicycle delivery service for London.
Currently at 135 percent of its goal, Pedals has raised £122,000 and investors appear keen to continue funding the project for the two days it has left of the crowdfunding site.
What makes this start-up so promising?
Pedals have developed their own technology to allow any business to arrange delivery by bicycle using the spare capacity of everyday cyclists. Having already made over 2,500 deliveries, the delivery service aims to "create an environmentally sustainable and reliable distribution strategy and are reinvigorating existing courier services with personal, old school bicycle delivery to transport products with care, precision and speed."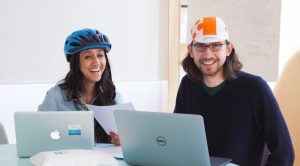 Customers simply hire cyclists by specifying a pick-up location, drop-off destination, and precise time slot. For multiple deliveries, cyclists can be hired by the hour for as little as £15. Pedals then calculates the quickest and safest route for the team of cyclists.
They have a promising foundation, already working with startups such as Brew by Numbers and Pip & Nut. They have also been accepted onto the government-backed accelerator program, Geovation, which provided a small grant.
CEO and founder, Richa Bhalla, clearly knows what she is doing having lived and worked in Silicon Valley to learn about startups. By the end of this year she hopes Pedals will be carrying out 1000 deliveries a month.
"We take 25% of the cost of each delivery. Prices start at £6.70 and go up to £32. Customers can also hire cyclists for £15 an hour for multiple drops. We take £4 for each hour in this case. By month 6 we intend to have 275 customers and be doing 5500 deliveries a month."
Interested? The Pedals team have recently offered a better deal for investors, increasing the equity from 8.26 percent to 10.71 percent making it a great time to invest.