The Chief Secretary David Gauke has revealed the new one pound coin will enter circulation on 28 March 2017.
Dubbed as "the most secure coin in the world" by The Royal Mint, the new coin has several new security features to prevent counterfeits, which cost taxpayers and businesses millions every year.
The high-security features include a latent image that changes from a '£' symbol to the number '1' when the coin is seen from different angles. The new coins are also bimetallic. The outer ring of the coin is gold coloured whilst the inner ring is silver coloured.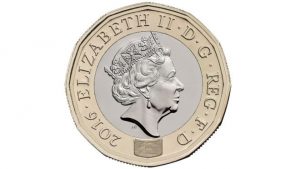 To ensure all round pound coins are either spent or returned to the bank before 15 October 2017 when they lose their legal tender status, the government has launched a new campaign to raise awareness of the new 12-sided coin.
"March 28 should be an important date in everybody's calendar this year – as we will have a new quid on the block. This is a historic moment as it's the first time we've introduced a new £1 coin since 1983, and this one will be harder to counterfeit than ever before" said David Gauke, Chief Secretary to the Treasury.
"Our message is clear: if you have a round one pound coin sitting at home or in your wallet, you need to spend it or return it to your bank before 15 October." he added.
Helen Dickinson OBE, CEO of the British Retail Consortium is confident that the new coins "will address the issue of counterfeit coins for businesses and the general public alike, and will prove highly secure for customers to use."
"Our aim is to ensure that the implementation of the new coin runs as smoothly as possible for our customers and staff." she said.
The introduction of the new coins will come as new designs are also brought into circulation, celebrating the achievements of Jane Austen and Sir Isaac Newton.