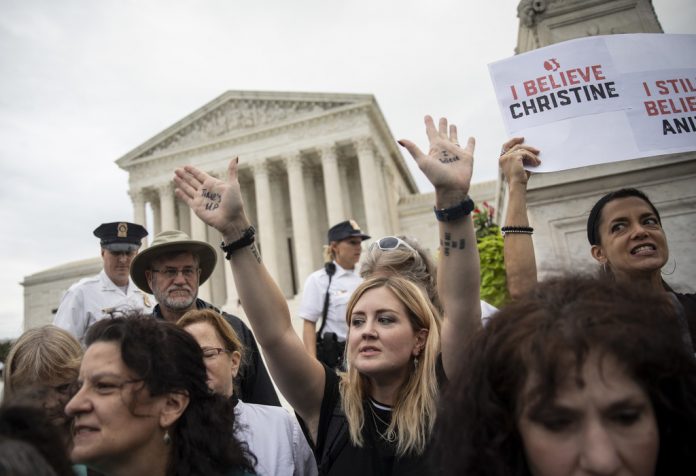 Over 300 protesters against Supreme Court nominee Brett Kavanaugh have been arrested.
Among the hundred arrested were comedian Amy Schumer and model Emily Ratajkowski, who were part of the sit-in at a Senate office building before the vote.
The mainly female crowd marched whilst shouting: "We believe Dr Christine Blasey Ford", referring to the university professor who has accused Kavanaugh of sexually assaulting her when they were teenagers. 
Ratajkowski wrote on Twitter and Instagram: "Today I was arrested protesting the Supreme Court nomination of Brett Kavanaugh, a man who has been accused by multiple women of sexual assault. Men who hurt women can no longer be placed in positions of power."
"Kavanaugh's confirmation as a Justice of the Supreme Court of the United States is a message to women in this country that they do not matter. I demand a government that acknowledges, respects and supports women as much as it does men."
Earlier this week, Donald Trump mocked Blasey Ford whilst speaking to hundreds of supporters in Mississippi.
Despite previously saying she was a "very credible witness", saying "I thought her testimony was very compelling and she looks like a very fine woman to me, very fine woman," the US President did a U-turn and questioned her judgement.
"How did you get there? 'I don't remember.' Where is the place? 'I don't remember.' How many years ago was it? 'I don't know.' What neighbourhood was it? 'I don't know.' Where's the house? 'I don't know," he said on Tuesday.