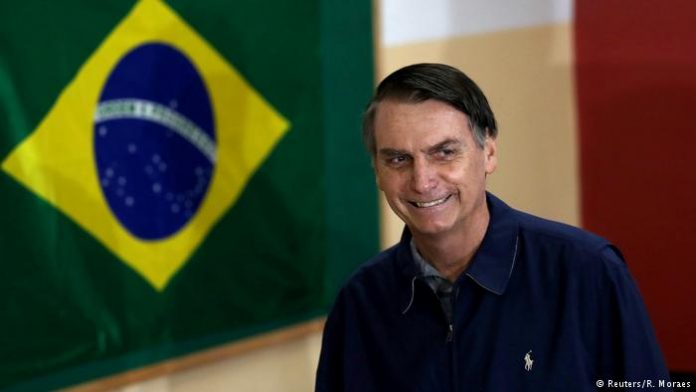 In one of his first television interviews since his election on Sunday, Jair Bolsonaro has rejected claims that he is a fascist.
The former paratrooper and winner of Brazil's general election compared himself to Churchill, whilst saying it was his left-wing rivals who were the fascists.
Speaking on a major Brazilian television channel, Bolsonaro said: "They always accuse others of being what they are themselves. It's these leftwing people, who always put themselves above the rest, who are fascists."
"I hope to be an example," he said. "We are taking over a completely broken Brazil. We've never had such a major ethical, moral and economic crisis and we want to get out of this quagmire."
The right-wing president, who will take office in January, based his campaign on promises to end corruption, crime and communism and won 55.1% of the votes over the weekend.
His presidency has led to concern for many, with Amnesty International saying that Bolsonaro is likely to pose a "huge risk" to Brazil's indigenous peoples, LGBT communities, activists and civil society organisations, black youth and women.
The new President has been compared to Donald Trump and has shared his plans to relax gun laws in Brazil.
He said earlier this month: "Every honest citizen, man or woman if they want to have a weapon in their homes – depending on certain criteria – should be able to have one."
"I ask myself: 'Why can't a truck driver have the right to carry a gun?'" he said.
"Just think about it; put yourself in the shoes of a truck driver. He nods off at the petrol station … and when he wakes up the next day his spare tyre has gone."