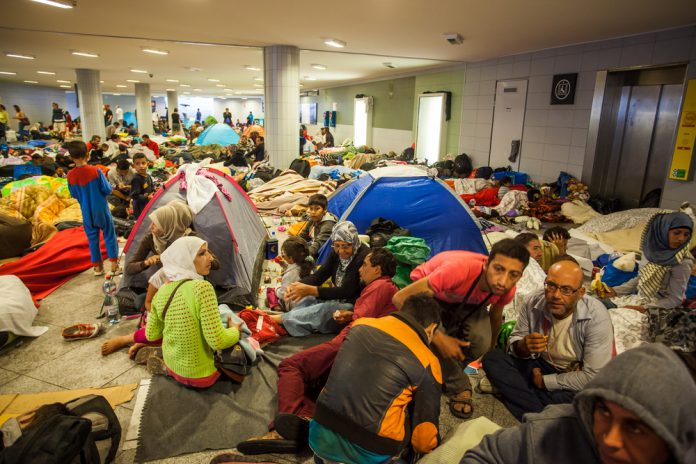 After a week of intense clearances of the infamous 'Jungle' camp in Calais, French officials have now moved focus onto the illegal camp in northeastern Paris where numbers have soared.
Some 600 police officers were deployed to the area and moved in at daybreak, escorting the 3,000 migrants from the sprawls of tents and mattresses to the dozens of buses waiting for them.
President François Hollande had vowed to shut down the sprawling new camp in Paris, saying such encampments were "shameful" in a country like France.
Several hundred men began queuing near the Stalingrad metro station before 06:00 local time (05:00 GMT) and the first bus left shortly afterwards taking migrants, many from war-torn countries such as Afghanistan, to holding centres in and around the French capital pending the processing of asylum requests.
The Stalingrad camp in Paris was previously cleared in July and September, but migrants quickly returned and their numbers grew as the Calais camp was closed.
Whilst the clearance of the Calais 'Jungle camp triggered the spread of fires, so far clearance of the camp is Paris is going well. "The evacuation operation is running smoothly so far," said a spokeswoman for the Paris prefecture.
Bruno Morel, director of the Emmaus Solidarite charity that has been helping migrants in France said:
"It's above all a question right now of reassuring people that there are other options."
"We have the means to evacuate up to 4,000 if necessary," Housing Minister Emmanuelle Cosse told France 2 television. Jean-François Carenco, the chief of police for the Paris region, said the last of the migrants would be cleared out by mid-afternoon in a very quick operation.
France is currently negotiating with London to ensure that Britain takes in child migrants from the now-cleared 'Jungle' camp, which for years was a magnet for migrants desperate to make it across the Channel sea crossing to the UK.