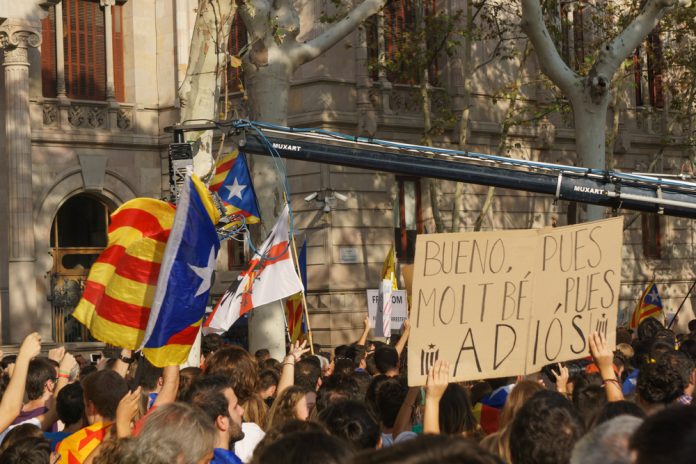 Catalonia' ex-leader has been released by a Belgian judge after a hearing that lasted over ten hours.
Puigdemont and four of his ministers turned themselves into the police. They face charges of disobedience and breach of trust following the independence referendum in Spain.
A Belgian prosecutor has said that Puigdemont is expected to reappear in court in the next 15 days. In the meantime, they have been released with conditions.
"The next step in the proceedings is the appearance of the five defendants before the Chambre du Conseil within the next 15 days," said the prosecutors.
The ousted leader fled Catalonia after the illegal referendum because of worried he would not receive a fair trial in Spain.
The Spanish government issued European arrest warrants against Puigdemont, Antoni Comín, Clara Ponsatí, Meritxell Serret and Lluís Puig on Friday for trying to "illegally change the organisation of the state through a secessionist process that ignores the constitution".
A spokesman for the Brussels' prosecutor's office, Gilles Dejemeppe, said the judge's options range from "refusal to execute the European arrest, arresting the people involved, releasing them on conditions or under bail".
The entire process could take over 60 days, giving Puigdemont enough time to take part in Spain's snap election.
A senior official of Puigdemont's party said that the party wanted Puigdemont to continue as its candidate.
Jan Jambon, from the Belgium coalition, questioned Spain's handling of the crisis in Catalonia and suggested the EU should intervene.
"When the police hit people, we can still ask questions. When the Spanish state has locked two opinion leaders, I have questions. And now the Spanish government will act in the place of a democratically elected government?
"Members of a government are put in prison. What have they done wrong? Simply apply the mandate they received from their constituents," he added.