Shell shares were up 2.9% to 2,291.5p in late afternoon trading on Thursday, after the company reported a $9.1 billion profit in its Q1 2022 update, triple the energy group's $3.2 billion profits in Q1 2021.
The firm attributed its spiking profits to surging oil prices, with the price of Brent crude hitting over $120 per barrel in March this year due to Russia's invasion of Ukraine kicking off scarcity fears across the market.
"The Cinderella story we've seen among the oil majors continued this week as Shell posted record profits thanks to an extremely accommodative environment," said Hargreaves Lansdown equity analyst Laura Hoy.
Shell further announced a $3.9 billion charge from the suspension of its Russian operations.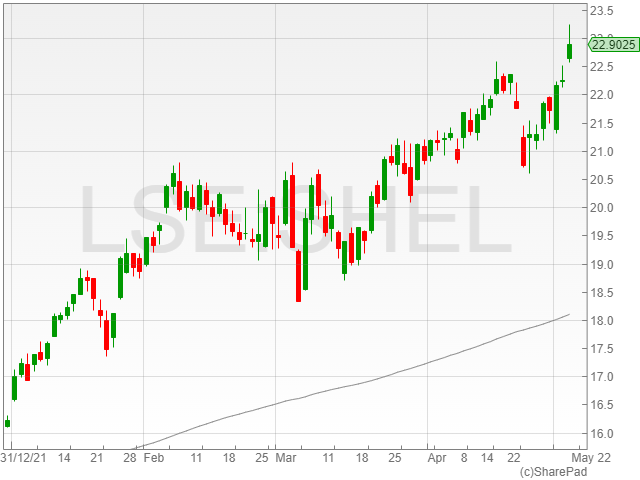 However, the dent in the company's balance sheet did little to quell calls for a windfall tax as households across the UK struggled under the heavy weight of the rising energy price cap, leaving the average home with £700 in extra costs per year.
"The group's exit from Russia took a $4bn bite out of the bottom line, but excluding this one-off expense, the group's been firing on all cylinders as rising prices offset minor volume declines," said Hoy.
Energy groups including Shell rival BP have met calls for a windfall tax with claims that the oil giants need the cash to invest in green energy infrastructure and diversification moving forward.
"Calls for a windfall tax have been rebuffed by claims that the majors will start to clean up their acts, spending some of the excess to build out their renewables divisions," continued Hoy.
"While renewables is just a drop in Shell's $19bn bucket, it's likely to become a much larger slice of the pie as the energy transition ramps up."
"This technology is largely unproven, so oil and gas investors that have become accustomed to generous returns are taking a leap of faith. If the group's able to build out this part of the business to become a reliable profit driver while oil prices are still high, it would make the transition all the smoother."
It remains to be seen if Shell will be asked to support struggling consumers with a windfall tax later in the year, but if the price of oil continues to climb, it will become increasingly difficult for the energy company to justify its spiking profits while households suffer the chill of empty wallets this winter.
Shell announced a dividend of $5.4 billion, representing 25c per share over Q1, with a 4% increase over the dollar for its Q4 2021 payout.
The group commented that $4 billion of shares had been repurchased under its $8.5 billion share buyback schedule for HY1 2022, with the outstanding $4.5 billion confirmed for completion before the release of Shell's Q2 2022 report.