GreenRoc Mining shares were up 6.3% to 2.7p in early afternoon trading on Thursday, after the group reported a "significantly" revised estimate to its Amitsoq Graphite Project in Greenland to 5-15 million tonnes (mt) at a grade range of 18%-22%.
The firm released a previous estimate of 1.7-4.5 mt at a grade range of 24%-36% Graphitic Carbon (cg) on 7 May 2021.
GreenRoc Mining announced a Maiden Resource estimate on 8 May 2022 of combined indicated and inferred JORC Resource of 8.28 mt at an average grade of 19.7% cg, representing a total graphite content of 1.63 mt for the Amitsoq deposit.
The mining group mentioned that the deposit is open along strike, predominantly to the north and down dip to the west, with testing scheduled for the phase two drilling programme later in 2022.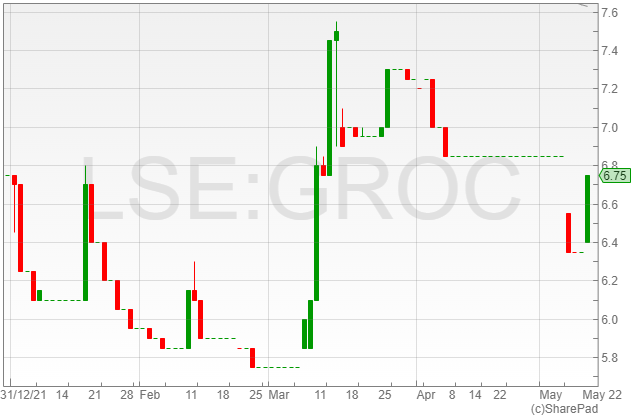 The company also noted that there was considerable upside potential from the currently undrilled Kalaaq deposit south of Amitsoq Island, with a clarified exploration target calculation already in progress for the operation.
GreenRoc Mining highlighted the high demand for graphite which has been driven by its use in electric vehicle batteries as the global market shifts towards net zero carbon.
UBS estimated a natural graphite deficit of 3.7 mt by 2030, representing approximately 37% of the global market.
GreenRoc Mining confirmed that the Amitsoq graphite could be upgraded to a more than 99.95% pure graphite product, which is the requirement for electric vehicle batteries, placing the company in a prime position to capitalise on the market.
"Amitsoq is one of the highest-grade graphite deposits globally, and our graphite has been shown to be amenable to the production of the high purity graphite, which is the requirement for EV batteries," said GreenRoc Mining interim CEO Lars Brünner. 
"Our focus now is on building our Resource tonnage to a level that will support a detailed feasibility study.  The current Maiden Resource of 8.28Mt at an average grade of 19.75% Cg, giving a total graphite content of 1.63 Mt, is a fantastic result but we are confident we can improve this further and in so doing strengthen the commercial value of the Project."
"More than half of the Exploration Target area for Amitsoq Island remains undrilled and the upcoming drill programme will focus on unlocking this Resource potential.  We look forward to sharing further details in due course."