Sage Group shares increased 3.2% to 685.6p in late afternoon trading on Friday, after the software group reported an 8% uptick in recurring revenue growth on its 21% Sage Business Cloud expansion in its HY1 2022 results.
Sage Group said it experienced strong performance across all regions, with a balanced growth between new and existing customers and a renewal rate by value of 100% ahead of the previous year, marking positive renewal rates and strong sales to existing customers.
The company announced a slight decline in statutory revenue to £934 million compared to £937 million year-on-year, with an operating profit rise to £204 million from £203 million.
Sage Group confirmed an EPS increase of 12% to 14.8p against 13.2p, alongside a dividend per share uptick to 6.3 compared to 6p in HY1 2021.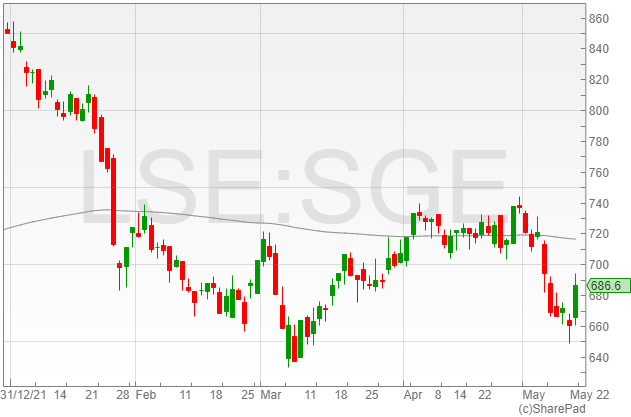 The technology group noted a strong balance sheet with £1.2 billion in cash and available liquidity and a net debt to EBITDA of 1.5x.
The company commented that its outlook remained unchanged, with estimated recurring revenue growth between 8%-9% in FY 2022, boosted by Sage Business Cloud growth and particularly cloud native revenues.
"We achieved a strong first half performance , in line with expectations , demonstrating sustainable growth and building further momentum," said Sage Group CEO Steve Hare.
"Our strategic investment in sales, marketing and innovation has continued to accelerate revenues across Sage Business Cloud, underpinned by increasing levels of new customer acquisition."
"Cloud native solutions, which now account for around a quarter of Group ARR, have performed particularly well."
Sage Group added that it expected other revenue to continue to decline, in line with executive strategy, with organic operating margins expected to trend upwards in FY2022 and into the future as the firm narrows its focus on scaling the company.
"While we are mindful of increased macroeconomic and geopolitical uncertainties, our customers remain confident and resilient," said Hare.
"Our aim is to knock down barriers to their success, delivering solutions that make their lives easier, and we continue to make good progress against our strategic objectives."
"I am confident that our ambition to become the trusted network for small and mid-sized businesses will drive the success of Sage, as we focus on growing both revenue and earnings in absolute terms."