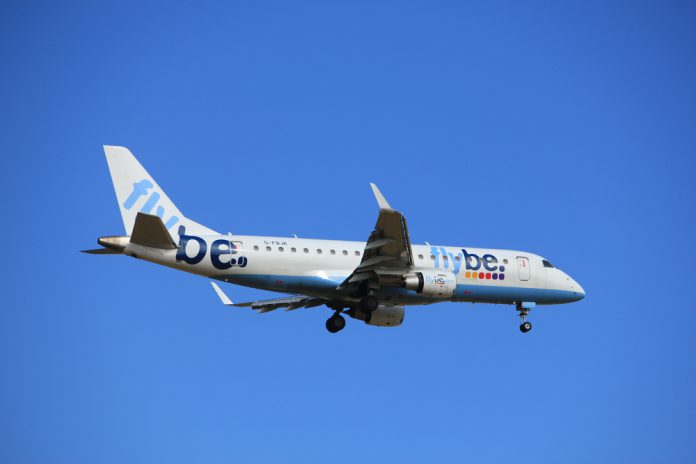 Shares in Flybe plummeted 39% in early trading after the airline issued a profit warning.
In a trading update issued on Wednesday, Flybe warned that it expects a full-year pre-tax loss of £22 million.
The group blamed the weaker consumer demand in the UK and European markets, as well as a £29 million hit from oil price rises and the weaker pound.
"We are reviewing further capacity and cost-saving measures," said Christine Ourmieres-Widener, chief executive of Flybe.
"Stronger cost discipline is starting to have a positive impact across the business, but we aim to do more in the coming months, particularly against the headwinds of currency and fuel costs."
"We continue to strengthen the underlying business and remain confident that our strategy will improve performance," she added.
Peter Morris, an aviation economist with FlightGlobal, told the BBC that Flybe's performance was affected by the UK economy.
"Given that the pound is weakening and they've got to buy their fuel and leases in dollars, you've got a challenge where your revenues are either fixed or declining, and your costs are rising," he said.
"For example, it might fly from Southampton to Amsterdam, but it's not a major trunk route, so it doesn't have enough corporate flyers. But if it gets to a critical mass, then low cost airlines will join in and fly those routes at lower costs. If you are successful, either group will come after you," he added.
The airline's interim results will be issued on 14 November.
Full-year profits for the year to the end of March were also affected, this time by the "Beast from the East", which resulted in hundreds of flight cancellations.
Earlier this year, Monarch collapsed into administration, highlighting the turbulent conditions for airlines.
Ryanair (LON: RYA) has also recently warned on profits, following the strike action that impacted profits. 
Shares (LON: FLYB) are currently trading down 37.89% at 20,00 (1340GMT).