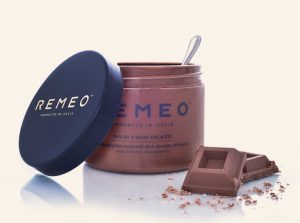 Entirely produced in Italy, Remeo Gelato is a healthier, lighter and gluten free alternative to ice cream that will be the next big thing in Britain's supermarkets.
Described as "luxury ice cream", this dessert certainly looks special. The gelato is sold in carefully made jars designed by a team of fashion designers and engineers in the north of Italy.
"Our ethos, built around the use of the lowest amount of ingredients, all of the highest quality, and the total absence of artificial substances, results in a Gelato which is 35% lower in fat and that has a reduced air content compared to regular ice-creams." says the Remos Gelato team.
"The sourcing of the ingredients undergoes a strict and continuous control (high-quality fresh milk, liquid Italian Espresso Coffee, Madagascan Vanilla from the Bourbon Region), all of which are not processed but only blended with fresh milk and pure raw sugar."
It's then no wonder that the brand won the 2015 & 2016 Great Taste Awards, and was a finalist in Dairy Innovation awards for Best Frozen Dairy Product and Best Designed Packaging.
Already stocked in Harvey Nichols and Ocado.com, Romeo was awarded "supplier of the moment" after selling out of many of its products in the first week of trading.
Founder, Jacopo di Vonzo, believes that there are many exceptional Italian food products that have not been developed into global brands, such as Gelato.
This new gelato brand is currently seeking investors on Crowdcube, hoping to raise a total of £150,000 to help support the go-to-market strategy to large-scale retailers and food service, strengthen the team with a full-time marketing specialist and a part-time senior salesperson and support brand and marketing initiatives to boost brand awareness and support sales.
Having already raised almost £100,000, the gelato company still have seven days left on the crowdfunding website and offer 6.25 percent equity.
Remeo Gelato aim for £445k revenue in 2017, with improvement in gross margin.