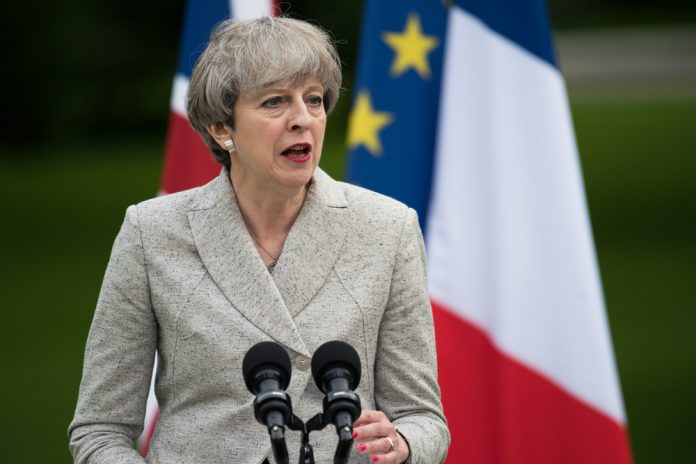 Just when Theresa May thought the time had come to show the Conservatives who was in charge once and for all, she was sadly mistaken.
What should have been a "strong and stable" speech, acknowledging her mistakes so far and promising to do better next time, turned into an episode of the Thick of It. Hindered by a prankster handing her a P45, a coughing fit and some badly made staging, supporters and critics alike watched aghast  as May's leadership appeared to crumble before their very eyes.
Whilst some praised May for her calm approach in the face of challenges, as well as displaying a softer side to the 'Ice Maiden', others said her performance was worthy of a resignation.
And then, of course, Twitter did what it did best and pointed out every horrifyingly embarrassing moment.
Theresa May being literally told to F off by an inanimate object is about as wild as it can get at a Tory Party conference. #CPC17 pic.twitter.com/vQVso9Z7Fs

— KarlSkidMarx (@spookworm1) October 4, 2017
Theresa May's speech was so boring even the letters dropped off!! #TheresaMayspeech

— fiona smith (@theia14) October 4, 2017
OMG! Even the letters are falling off May's backdrop now pic.twitter.com/7qkUjzAYe5

— Ido Vock (@idvck) October 4, 2017
Twitter was quick to notice that everything that could possibly go wrong, went wrong. This included her worst nightmare – being handed a P45 on live TV.
Hi @BorisJohnson, I gave Theresa her P45 just like you asked. pic.twitter.com/gzW0UluDMv

— Simon Brodkin (@simonbrodkin) October 4, 2017
when ur at ur cousin's wedding and ur mum tells u to stand for the hymns pic.twitter.com/FjThLiPirJ

— Mollie Goodfellow (@hansmollman) October 4, 2017
However, at least Theresa May herself joined in.
*coughs* pic.twitter.com/1b6CoW5Mrz

— Theresa May (@theresa_may) October 4, 2017