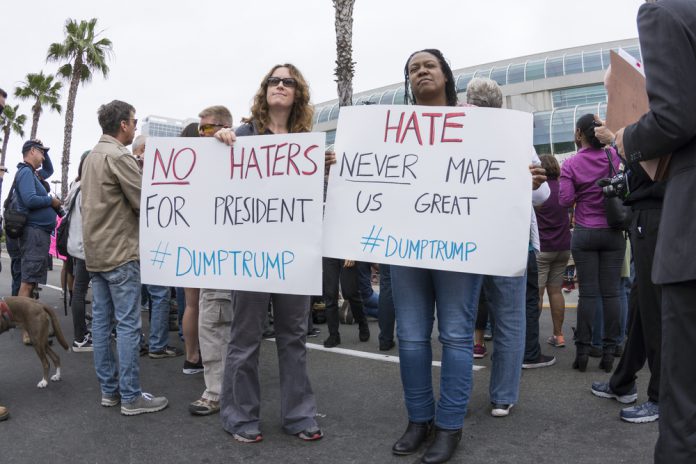 Cities across the United States have seen crowds of protestors, following Donald Trump's surprise presidential win on Tuesday.
The protests started hours after Clinton's concession speech on Wednesday, telling her supporters that "Donald Trump is going to be our president. We owe him an open mind and the chance to lead."
Whilst Trump has said that now is "a time for us to come together as one united people", thousands gathered across the country, with protests organised in New York, Chicago, Los Angeles amongst many other cities.
In New York, thousands filled the streets making their way to Trump Tower whilst hundreds gathered in Manhatten park.
Across the country in Oakland, officials say a protest grew from 3,000 people at 7pm to 6,000 just an hour later. According to local reports, the situation grew tense and riot police were called in after a group of rioters started small fires in the street. At least one officer was injured.
One of the larger demonstrations was in Los Angeles where protesters blocked the Highway 101, chanting phrases such as "Not my president" and "No Trump! No KKK! No racist USA". Police were called and 13 were arrested.
Also in Los Angeles, earlier on Wednesday, was a protest of 300 predominantly Latino students who walked out on classes to City hall chanting in Spanish "the people united will never be defeated".
According to school officials, many of these students are members of the "Dreamers" generation, children whose parents entered the United States with them illegally and now fear deportation under the new Trump administration.
Anger among voters appears to have been exacerbated by the fact that Hillary Clinton won the popular vote by about 200,000, according to the latest 99.1 percent complete count.
Since the news of Donald Trump's success, President Barack Obama vouched for a smooth transition of power and has invited Trump to the White House on Thursday.
Read more on how Trump's win has affected the FTSE and the predictions for what his administration means for the stock market.