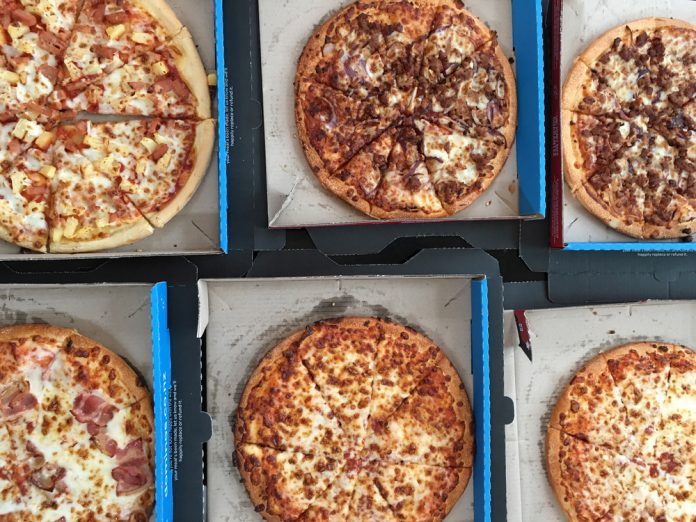 Shares in Domino's Pizza Group (LON:DOM) soared on Wednesday as the pizza delivery chain posted its fourth quarter results.
Shares in the franchise were up by over 7% during trading on Wednesday.
Domino's said that, for the 13 weeks to 29 December, group system sales were up 3.7% to £352 million, compared to the £339.6 million figure recorded for the same period a year prior.
The strong performance was driven by the pizza delivery chain's UK and Irish markets.
System sales in the UK and Republic of Ireland were up 4.4%, Domino's said, with the UK accounting for the vast majority of these system sales overall.
Domino's announced last October in a third quarter trading update that it will be ending its international operations.
Though the financial results had stabilised, international system sales remained "disappointing".
Indeed, the pizza delivery chain said on Wednesday that international system sales in the fourth quarter were down 5% on a reported basis, and down 1.4% in local currency.
"I am pleased with the performance of our core UK and Ireland markets, with system sales up 4.4% and UK like-for-likes up 3.9%, against a strong comparative and a competitive backdrop," David Wild, Chief Executive Officer, said in a company statement.
"This performance was driven by the power of our brand, our strong digital capabilities and the operational expertise of our franchisee partners," the Chief Executive Officer continued.
David Wild added: "At the end of the period we announced the tragic passing of our CFO, David Bauernfeind. David will be deeply missed by all who knew him and worked with him. He leaves behind a high-quality finance team who have shown remarkable resilience and dedication over the past month, and we are well advanced in the search for an interim CFO."
"We look forward to announcing our preliminary results next month and updating the market on strategic progress made over the last few months."
Meanwhile, Domino's added that it expects UK and Republic of Ireland operating profit to be within the range of market expectations. Analysts are forecasting a range between £102.1 million to £104.1 million, with an average of £103.1 million.
Shares in Domino's Pizza Group plc (LON:DOM) were up on Wednesday, trading at +7.47% as of 13:31 GMT.