Clinical diagnostics company, Novacyt announced on Thursday that the group's total revenues dropped by £181m to £95.8m leading to shares dipping 6.5% to 149p.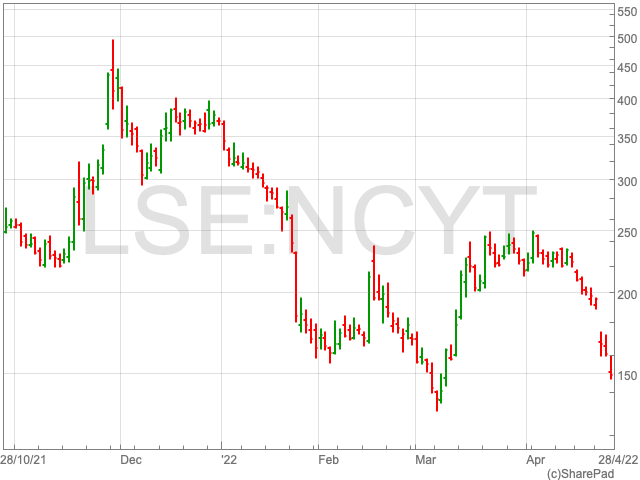 Novacyt reported a fall in group revenue of £181m to £95.8m in 2021 which excluded £40.9m of revenue under dispute, still in line with management expectations.
Of the total group revenue for Novacyt, Covid-19 products accounted for 86% of sales, down 9% from 2020.
The group's sales to private laboratories rose by 98% YoY to £55.9m compared to £28.3m.
Primerdesign
Novacyt's Primerdesign generates sales of £89.9m compared to £272.8m in 2020 and remained the main source of revenue for the group. Out of the £89.9m, COVID-19 sales amount to 93% or £84m in 2021.
In 2021, the company launched 15 new assays to enable laboratories, physicians, and private testing of COVID-19, following the debut of one of the world's first authorized polymerase chain reaction (PCR) tests in Q1 2020.
In addition, VersaLab mobile processing laboratories and VersaLabPortable were introduced to provide near-patient testing prospects in the private sector.
With sales to over 80 countries, the core distributor and reseller business in the UK and foreign markets generated £32.2m in revenue for Novacyt.
In 2021, the private sector testing market for the group generated £55.9m in sales, accounting for 62% of total sales.
With revenue of £31.0m in 2021, the European area maintained its strong sales and sales in the Asia-Pacific area increased by 37% in 2021, bringing total sales to £7.3m for Novacyt.
Novacyt's sales to the DHSC / UK Health and Security Agency were much lower in 2021 than in 2020, resulting in a significant drop in UK revenues.
IT-IS International
In 2021, IT-IS International generated £9.3m in sales, up from £6.9m in post-acquisition revenues in 2020.
Intercompany sales of £6.5m were included in the £9.3m, which were removed in Novacyt's consolidated statements.
Over 500 instruments were put in over 35 countries as part of the company's MyGo product line.
Lab21 Products
Sales of Novacyt's Lab21 Products dropped by £0.6m to £4.6m in 2021, compared to £5.2m in 2020.
Intercompany sales of £1.4m were included in the £4.6m, which were removed from the group's consolidated statements.
Instead of outsourcing COVID-19 kit manufacturing to a third party and diluting gross margin, Microgen Bioproducts offered Primerdesign with services in support of manufacturing COVID-19 kits.
Customers switching their testing facilities and methods from veterinary and food testing to COVID-19 testing to support global pandemic efforts continues to have an impact on the core business.
The group's EBITDA % increased from 1% to 39% in 2021 as Novacyt delivered an EBITDA before the cost of sales exceptional items of £37.1m in 2021 compared to £176.1m due to "significantly reduced sales".
Novacyt reported profits after tax before the cost of sales exceptional items of £19.2m in 2021 compared to £132.4m in 2020 which after the cost of sales exceptional items moves the group to a position of loss after tax of £9.7m.
In 2021, the company reported a loss of £0.14 per share, compared to a profit of £1.94 per share in 2020.
As a result of paying off all outstanding debt in 2020, gross borrowing costs reduced to zero in 2021, down from £1.4m for the group.
Novacyt's inventory dropped to £11.5m in December 2021, owing to the booking of a high inventory provision.
Novacyt's inventory levels were developed in response to the UK Government's appeal for UK manufacturers to increase manufacturing capacity and supply chain flexibility in preparation to the COVID-19 pandemic, and were based on probable demand indicated by the DHSC.
A high stock reserve was booked since prospective material contracts with the DHSC in 2021 were not secured and now Novacyt is still looking for ways to get more value out of this inventory.
Novacyt's cash on hand at the end of 2021 increased to £101.7m from £91.8m in 2020, owing to the company's strong underlying trading performance excluding cost of sales exceptional items.
Novacyt Outlook
In Q1 2022, Novacyt's revenues were £13.1m, with £10.1m connected to COVID-19, compared to £34.4m and £31m in 2021, indicating a 67% drop in COVID-19-related revenues, which is faster than the Board had predicted in the January 2022 trading report.
If the rate of COVID-19-related sales declines at this rate for the rest of 2022, the Board anticipates full-year revenues of around £35m to £45m.
This implies growth in non-COVID-19 revenue in 2022 compared to 2021, which, as stated in this statement, is being pursued through both internal R&D and external partnerships by Novacyt.
Opex costs will be rigorously managed for Novacyt to keep underlying EBITDA as a proportion of revenue in the double digits for the entire year.
Novacyt's management expects that in five years, it will be able to generate annual revenue of over £100m while maintaining profit margins equivalent to its peer group.
This forecast is predicated on the effective implementation of the strategy to increase non-COVID-19 revenue by a significant amount.
David Allmond, Group CEO of Novacyt, said, "In 2021, we delivered a financial performance in line with market expectations."
"The Company responded to a rapidly changing marketplace and diversified from predominately servicing government COVID-19 testing tenders, to the private market for COVID-19 testing in travel, sport, film, media, and workplace settings."
"Novacyt's reputation for the innovation and high performance of its diagnostic technologies was reinforced throughout the pandemic and the company has established a strong foundation of R&D, manufacturing, regulatory and commercial capabilities, supported by a strong financial position."
"As a result, Novacyt is well positioned for future growth and value creation and there are exciting times ahead for the company as we move past the current pandemic and continue our journey to become a leading global clinical diagnostics company focused on unmet needs in infectious diseases."