Smurfit Kappa reported a 33% growth in both revenue and EBITDA despite headwinds at the start of the year, in its Q1 2022 trading update, leading shares to gain 4.7% to 3,426p on Friday.
Smurfit Kappa noted a revenue growth of 33% to €3.02bn and an EBITDA growth of 33% to €514m with an EBITDA margin of 17% in its first-quarter 2022 trading update.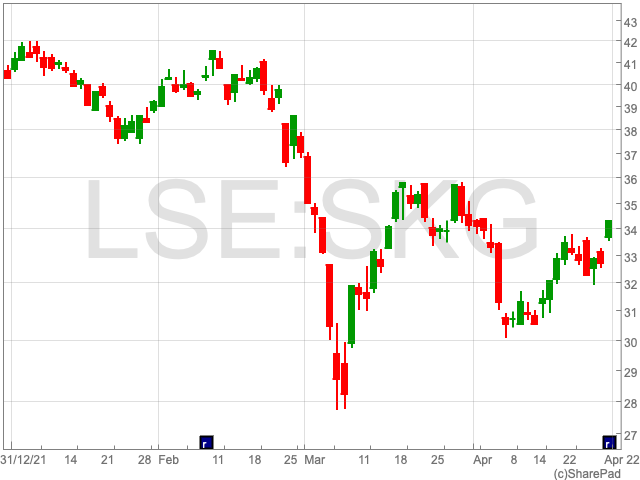 Paper-based packaging solution company, https://www.rte.ie/news/business/2022/0429/1295054-smurfit-kappa-trading-update/Smurfit Kappa's growth in corrugated boxes was 3.6% in the first quarter.
For the European and Americas regions, box growth was roughly 3% and 6%, respectively and throughout the quarter, the group's paper and corrugated operations performed admirably in all regions.
In addition, Smurfit Kappa's specialty business areas have experienced great recovery and growth.
Argencraft, a corrugated manufacturing facility in Buenos Aires, Argentina, was recently acquired by the group and its existing businesses in the country will be enhanced by this acquisition.
On April 1st, Smurfit Kappa announced its decision to leave the Russian market due to rising tensions with the Russia-Ukraine war. However, the group and its individuals have made considerable donations to humanitarian organisations in the region.
As the group begins the second quarter, demand remains strong, owing to a gradual rebound in corrugated prices.
The cost rises and supply constraints are still a part of its business, but Smurfit is dealing with them thanks to its employees' dedication and active price recovery the group says.
Smurfit Kappa remains optimistic about the company's prospects, and its first-quarter results, together with its continuous investment programme, provide a solid basis for 2022 and beyond.
Tony Smurfit, Group CEO, Smurfit Kappa said, "I am pleased to report that we continue to deliver for our customers and against all performance measures. During the first quarter revenue grew by 33% on the first quarter of 2021, with EBITDA of €514 million and an EBITDA margin of 17%."
"This performance demonstrates the continuing benefits of SKG's integrated and resilient operating model, our geographic diversity and recent acquisitions. It also reflects the significant investment SKG has made, and continues to make, to support our customers' growth."
"Our ability to provide security of supply to customers and deliver market-leading, innovative and sustainable packaging solutions is a clear differentiator for SKG."
"The first quarter presented a number of significant operational challenges. Practically all input costs have risen sharply and already tight markets and supply chains have been exacerbated by the war in Ukraine."
"Our integrated and resilient business model has ensured security of supply in this increasingly complex environment. I am deeply proud of how our people have responded and are delivering for customers in these exceptional times."