JD Sports shares gained 7% to 127p as the group said sales have increased despite supply chain pressures in the first 14 weeks of its new financial year in a statement on Thursday.
JD Sports reported a 5% rise in total sales on an LFL basis compared to 2021 in the 14 weeks to May 7.
The group added that the performance is a "positive reflection" of the group's offerings in terms of brand relationships and strength.
JD showed resilience against a supply shortage in some "key footwear styles". The group anticipates improvements in 2022 regarding the situation.
The retailer's performance was in line with management expectations while remaining cautious of possible headwinds due to macroeconomic uncertainties.
JD has raised its profit guidance for its fiscal year which ended in January 2022 from £900m to around £940m, which is more than double of £421m which was generated in 2019.
Going forward, the group expects headline pretax profit, before exceptional items for 2023 to be "at least equal" to 2022.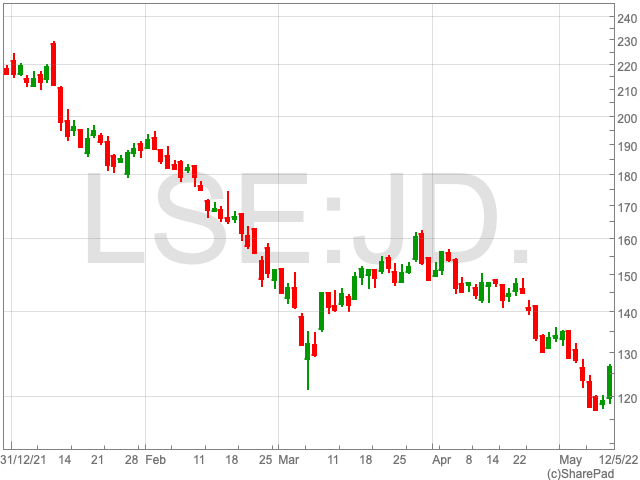 Russ Mould, Investment Director, AJ Bell said, "In recent years the company had been rated at the top of its game, with must-have trainers and smart stores that encourage customers to keep coming back for more."
JD said it should be in a position to announce its FY results for January 2022 in early to mid-June.