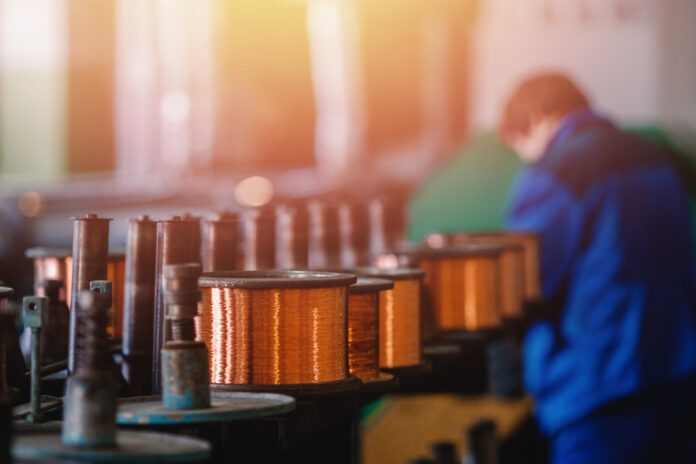 Vast Resources reported a group level income statement for Q1 2022 and provided an update regarding its production at Baita Plai Polymetallic Mine in Romania on Tuesday. Vast also announced its participation as one of a collective group of partners in a new joint venture project in Tajikistan with Korkhonai Boygardonii Takob.
Vast Resources shares soared 172% to 0.93p in afternoon trade on Tuesday.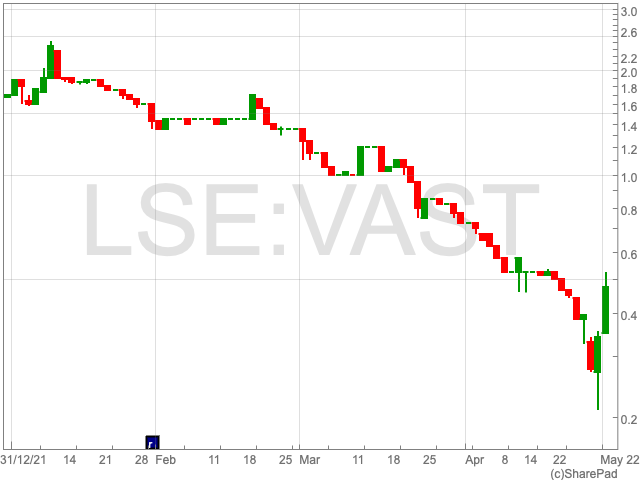 Vast Resources
Revenue Report
Vast Resources saw its total gross revenue leap 236% to £2.29m from £970,000 in the first quarter of 2022, which also included contributions from Tajikistan.
The group generated £1.67m in total revenues from other projects between Q4 2021 and Q1 2022.
The company, like other AIM-listed junior mining companies at a similar stage in the mining life cycle, is operating with limited financial resources.
However, while it continues to arrange concentrate sales from Baita Plai, the business is in the process of refinancing the Atlas bond facility, as stated on April 26, 2022.
Additional pipeline revenue prospects are also being pursued by the corporation and Vast Resources is optimistic about its capacity to keep the business well-funded.
Production Report
In Q1 2022, Baita Plai Mine concentrated on copper production, and the quarter's production numbers amounted to a 24.2% rise in tonnes milled and a 16.8% increase in Dry Metric Tonne production from Q4 '21 to Q1 '22.
It's worth noting that sales are timed according to sales schedules rather than manufacturing.
Beginning in June 2022, mechanisation is planned to significantly improve copper concentrate production.
As construction of the ramp down to sub-level 3 under level 18, which has now just intersected the Antonio skarn, mining throughout the quarter was primarily in low-grade ore.
The Antonio skarn on sub level 2 widens from 4 metres to more than 32 metres as mining goes from west to east.
As the skarn spreads, it enables the development of new working faces that are 9 metres apart, and a second drive has now begun in this area.
Other metal sales, such as molybdenum, will provide additional revenue streams.
Project in Tajikistan
Vast Resources announced its participation in a new joint venture project in Tajikistan with Open Joint Stock Company Korkhonai Boygardonii Takob as one of a group of partners on Tuesday.
Vast has a 49% interest in Central Asia Minerals and Metals Ore Trading FZCO (CAMM), which has an agreement with Takob, and a 50% interest in Central Asia Investments, a newly incorporated UK company.
Vast has an effective indirect interest in the Takob Project of 24.5%.
Takob is the owner of the operating Takob fluoride and galena mine in Tajikistan, which is a fully owned subsidiary of the Tajikistan Open Joint Stock Company "TALCO".
The strategic fluoride concentrate is sold to TALCO's chemical division for the production of essential raw materials for primary aluminium production.
According to the deal, the mine will produce 7,000 tonnes of ore per month with a minimum of 1.5-2% lead, 1.2-1.4% zinc, and 27% fluoride, with two months' worth of production already stored on-site and processing set to begin in Q2 2022.
It's worth noting that the mine reportedly contained 30g/t silver and 1-2g/t gold in situ in the past.
Under the terms of the deal, CAMM will offer equipment, technology, and technical experience to update and optimise the mine's processing facility, as well as manage and execute the project.
CAMM has acquired funding for the project and is fully financed. CAMM shall be entitled to 50% of net revenue from the sale of non-ferrous concentrate and precious metals in exchange for its financial commitments and provision of services under the agreement.
CAMM has engaged in a services agreement with Vast Resources to supply the knowledge required to fulfil its services and marketing commitments under the transaction.
Vast Resources is permitted to charge for the services supplied under this agreement on the condition that 24.5% of the fees generated will be held in escrow until the project's revenue may be used to cover them.
Vast Resources will effectively earn a 12.25% royalty on all sales of the non-ferrous concentrate and any other metals generated for its participation in the collective group, in addition to the fees payable under the services agreement with CAMM.
Andrew Prelea, CEO, of Vast Resources, commented, "His Excelency Emomali Rahmon, President of the Republic of Tajikistan Rahmon declared that the years 2022 to 2026 would be the years of industrial development for Tajikistan and further declared acceleration of industrialisation to be a national strategic goal."
"The Tajikistan Government has demonstrated its efficiency and willingness to attract Foreign Direct Investment in industrial projects and in particular in the Mining Sector. I have no doubt that the success of our project will attract further foreign investment in Country."
"I wish to thank the Minister of Industry and New Technologies of the Republic of Tajikistan, together with the Chairman and Executive Team of Open Joint Stock Company TALCO for their assistance in closing this transaction."
"I would also to thank all the stakeholders and our strategic partners in Central Asia Minerals and Metals Ore Trading FZCO for giving Vast the opportunity to participate in this exciting venture that opens the door to further opportunities together in Tajikistan."
Vast Resources Q2 Outlook
The Q1 period precedes the gradual adjustments detailed in the Baita Plai Update, which was released on January 31, 2022, and, as stated in that statement, Q2 will see a fundamental shift in the underground mine's operations.
According to the mine's initial start-up plan, mechanised drilling and cleaning will be implemented.
With the installation of two Mantis CMR4 Jumbo Drilling Rigs and the Aramine miniLoader L130D with remote control capability, mining activities are projected to undergo a considerable transformation.
First Mantis
The first Mantis will be deployed on level 17, where early mining during the mine's start-up phase was halted due to safety concerns for mining personnel due to in-stope pillar failures.
The Mantis will drill lengthy holes of about 15 – 25mt in the hanging wall from above the orebody. The ore will fall into the stope below when progressive rings are drilled and blasted.
An Aramine L130D equipped with a remote-control unit will be used to load the blasted ore, which allows the operator to be placed on safe, firm ground, addressing the initial safety concerns.
On the 17 levels, the first Long Hole stopes are planned to start producing ore in June 2022.
Second Mantis
The second Mantis will be used to raise the main belt inclination to 19 and, eventually, 21 degrees.
The faster progress rate will improve access to the Antonio skarn and simplify many mining-related difficulties such as water reticulation, electrical infrastructure, and ventilation.
Furthermore, the building of the belt incline will provide the necessary drilling platform for drilling the Antonio skarn from below the 2020 resource drilling programme to level 21.
Significantly higher production output should be accomplished with the two new Mantis drills, the changeover to mechanise mining, and the introduction of long-hole stope mining, and then the attention will shift to the plant to increase its capacity to process more tonnes.
All of the mine's basic infrastructure is now in place, and the Board expects that as production increases, the mine will become a profitable asset, with many more skarn deposits nearby waiting to be exploited.
The presence of bismuth and molybdenum also emphasises the mine's strategic importance. With the addition of a molybdenum flotation circuit, the processing plant has been altered. The molybdenum circuit is projected to be fully operational by the second quarter of 2022.