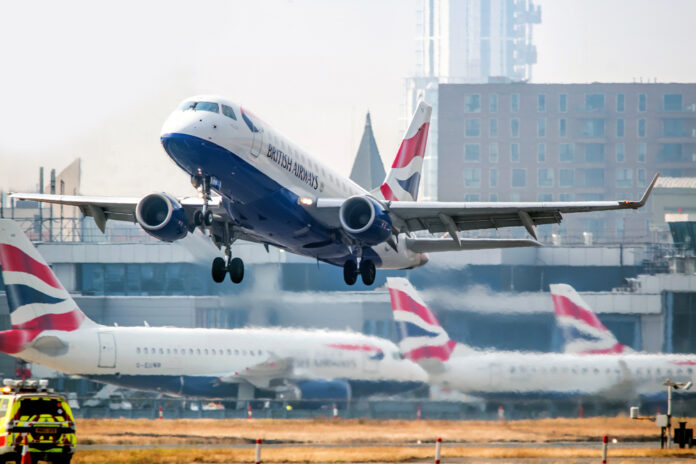 International Consolidated Airlines Group (IAG) shares were down 8% to 131p in early morning trading on Friday, after the business disclosed an operating loss of €731m in its Q1 2022 trading update, compared to a €1bn loss the previous year.
The airlines group reported a €787m post-tax loss after extraordinary items compared to €1bn in Q1 2021, and an €810m post-tax loss before exceptional items compared to €1.1bn the previous year.
IAG said that relaxing government limitations increased passenger capacity to 65% of 2019 bookings, up from 58% in Q4 2021, and that premium leisure bookings were in great demand.
The group observed that Omicron had a short-term negative impact on the operational result and passenger bookings, leading to cancellations in January and February, but that the situation in Ukraine had no impact on its company.
The travel company recorded cash of €8.1bn, up from €241m in the first quarter of 2021, owing to bookings for the remainder of FY2022.
IAG reported that committed and undrawn general and aircraft financing facilities increased to €4.1bn from €4bn YoY, including a new €200m loan facility from the Ireland Strategic Investment Fund (ISIF) for Aer Lingus, with overall liquidity of €12.3m compared to €11.9bn in Q1 2021.
The company said it expected to achieve 80% of 2019 passenger capacity in Q2 2022, with 85% in Q3 and the North Atlantic close to full capacity, and 90% in Q4, for a full-year capacity of 80%compared to 2019.
Luis Gallego, IAG CEO said, "As a result of the increasing demand, forward bookings remain encouraging. We expect to achieve 80% of 2019 capacity in the second quarter and 85% in the third quarter. North Atlantic capacity will be close to fully restored in the third quarter."
"Globally the travel industry is facing challenges as a result of the biggest scaling up in operations in history and British Airways is no exception."
"The welcome removal of UK's stringent travel restrictions, combined with strong pent-up demand, have contributed to a steep ramp up in capacity."
"The airline's focus at the moment is on improving operations and customer experience and enhancing operational resilience."
IAG expects to make a profit in Q2, leading to positive operating performance and net cash flows for the rest of 2022.
The rise in the cost of living threatens IAG's recovering operating margins, however, analysts note a cause for optimism.
"IAG will take longer to recover than its short-haul focussed friends, but that doesn't mean it should be discounted," said Sophie Lund-Yates, Equity Analyst, Hargreaves Lansdown.
"There's an argument to say that now the world is largely re-opening, customers could be inclined to splurge on a long-haul trip having been stuck at home for years."
"The other side of that story though is of course the cost-of-living crisis. Those that often travel first class are likely not going to see much of a change in spending habits, but the situation may well act as a drag on BA's shorter duration routes."